Lake Small Drazdiak (malý Draždiak)
In Slovakia, in the middle of a big city (Bratislava) there is a lake, whose shape looks a bit like, like what? To me, it looks like a map of Slovakia. and what is the lake name? Yes, it is Small Drazdiak (Malý Draždiak) in Petrzalka, a suburb of Bratislava.
Petržalka was known as the concrete jungle of Slovakia. Communistic residential concrete jungle. But no-one mentioned how beautiful nature is in some of its parts. And in one part, once upon a time, there was once a hidden lake SMall Draždiak. It is located in district "Grove of mirrors"
The lake is not large, it covers an area of 9 hectares, let's say like 100 large gardens. While walking through Petržalka, you will discover its hidden beauty. For comparison, the lake Big Drazdiak (Veľký Draždiak) covers the area of ​​13 hectares, which is half the size bigger.
If you want to see Small Drazdiak live, go for a walk and enjoy your small exploration trip. You will breathe in the forest and suddenly, in the middle of the city, you become part of nature. For now, at least enjoy the photograph of the lake.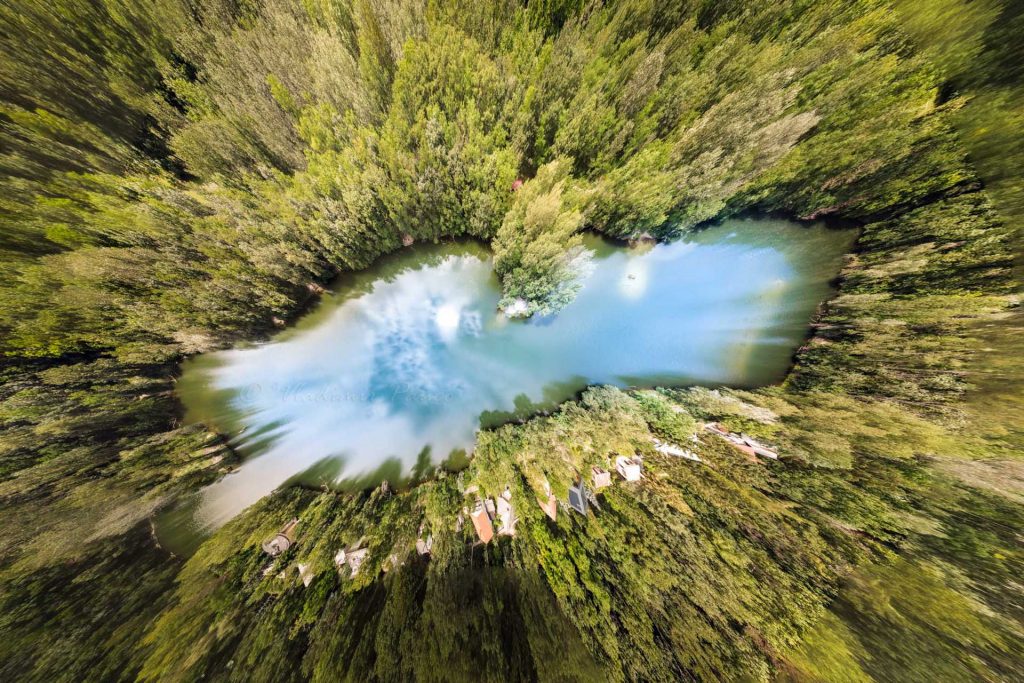 Drazdiak history in brief:
This lake was created as a result of gravel mining. And how did Draždiak come up with its name?
There was a hunting lodge called "Chalúpka Gejzu Dražďáka". Currently, the lodge or so-called hunting hut with historical architecture is hidden behind the fence on Starhradska street. You may try peeking through a wooden fence, you may see something, and you will notice the date 1779 on the wall of the hut.
Other lakes in and around Petrzalka:
If you want to see other lakes of Petržalka and the surrounding area, click here, and you will most probably be surprised by their colors, which we can easily call the colors of the Caribbean in Bratislava.