What are best 10 activities in Slovakia? The best sightseeings in Slovakia, What are thebest places to see in Slovakia?
This definitely is 1 million dollar question that only you can answer, because everyone has his own taste in terms of interests and activities.
My tips for you are:
1. High Tatra Mountains (Vysoke Tatry) – Alpine Mountain Range


img source wikimedia.org, Wojciech Andrijew
How to get there: by train from Kosice or from Bratislava, or fly to Poprad and then by train from Poprad.
This mountains are the highest from all Carpathian mountains. Highest pik is around 2600 meters.
You can make a day trip, spend few days/weekend or spend whole week.
Mountains are similar type as Alps and you can find many things during the summer as well as during the winter. Summer has tracks, views, lakes, (cold ones, and you cannot swim, it is forbidden as it is national park) In the winter you can ski, and ski and ski.
Please note :
Always consider weather conditions for your safety.
Tracks are usually well marked, but it can be good idea to take a mountain guide who knows the area, and tracks. There are some tracks where it is highly required.
Day trip
you can select some track depending on your fitness and weather condition.
Few days / weekends trip
Option 1 is to make few 1 day tracks
Option 2 is to make a longer track, and to spend 1 or few nights overnight in the cottages in the mountains. For concrete track info check some portals dedicated to High Tatra Mountains.
2. Spis castle (Spissky hrad), Chateau de Spiš

This is the largest castle in central Europe. On the way there you can also see gypsy villages, where gypsies (romovia) live traditional life. Unfortunately their integration into society made many mistakes, and current situation is that they are on the edge of society, and can easily rob you. My recommendation would be don't go out of the car. However you may try your luck specifically if you have a local contact, which in my view does not make things 100% but still increases chances for safety.
How to get there: by bus from Poprad, or from Kosice
3. Levoca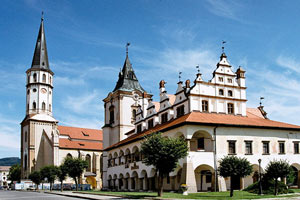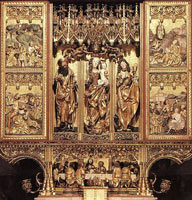 Source : wikimedia.org, Pudelek, Lure
Mister Pavol, made wooden Altar.
Levoca si small town with beautifull St Jacobs church. Inside you can see the highest wooden late gothic altar in the world. It is 18.62 meters (61 feet) high. St.Jacobs church is 2nd biggest in Slovakia after St.Elisabeth Cathedral in Kosice.
How to get there: By bus from Poprad or from Kosice
4. Kosice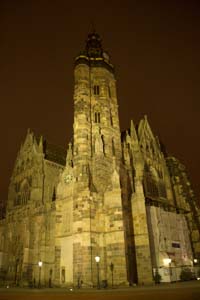 Kosice is the second biggest city in Slovakia. However historical center is the nicest in my view. It has nice atmosphere with warm, cozy feeling.
There are several places to see in Kosice, and the highlight is St. Elizabeth Cathedral.It is the biggest church in Slovakia. This Cathedral is built in the same style as St Vit Cathedral in Prague.
There are various stories behind. To see pictures from Kosice click on gallery of Slovakia .
How to get there: by train, by bus, or by airplane
5. Bratislava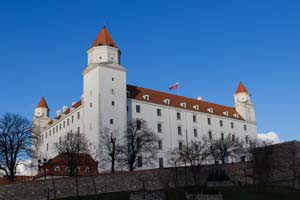 Bratislava as the Capital offers many things to tourists. From all unique things I mentioned here Hviezdoslavovo square, and UFO restaurant
To see pictures from Bratislava click on gallery of Slovakia.
How to get there: by train, by bus, or by airplane
6. Caves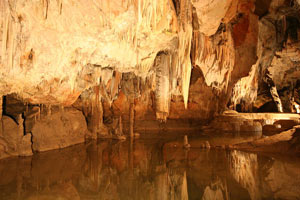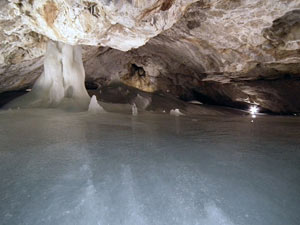 Pic source: wikimedia.org Author1: Jojo, Author2: Dariusz Wozniak
There are many caves around Slovakia. If you are just visiting Slovakia I don't expect you will visit them all. However these are the best in my view:
Dobšinská Ice Cave (Dobšinská ľadová jaskyňa), Slovak Paradise
Domica, Slovak Karst
Domica is the biggest cave in Slovak Karst. It is located near Roznava. (How to get there: by bus from Kosice, ROznava)
Gombasek Cave (Gombasecká jaskyňa), Slovak Karst
Jasovská Cave (Jasovská jaskyňa), Slovak Karst It is stalactite cave in Slovak Karst. The cave was partly opened for the public in 1846, making it the oldest publicly accessible cave in Slovakia
It is about 25 km from Kosice (How to get there: by bus from Poprad or Kosice)
Ochtinská Aragonite Cave (Ochtinská aragonitová jaskyňa), Slovak Karst
This cave is very unique and according to my information is 1 of 3 aragonite caves in the world. It is also included in the UNESCO World Heritage list (as part of Slovak Karst Site)
(How to get there: by bus from Poprad)
Belianska cave it is the only cave in High Tatra mountains (How to get there: by bus from Poprad)
Dobsinska Ice cave (Dobsinska ladova jaskyna)
Ice cave – is one of the most famous and beautiful in my view. Another amazing is Domica
How to get there: by bus from Poprad, or from Kosice
7. Tokaj wine cellars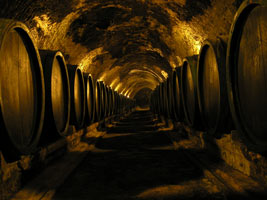 Source: wikimedia.org, Legnaw
Wine tasting of famous Tokaj wine. It is specific because of its taste. And this high quality and fairly expensive valuable wine is sweet . Wine cellars are at the east of Slovakia maybe 20 km from Kosice
How to get there: by bus from Kosice, but I would just order a tour in Kosice, or get detail info from travel guide book.
8. Slovak Paradise (Slovensky raj)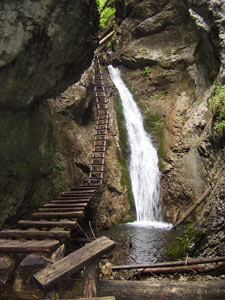 Source: Wikimedia, Honza Groch
It is nature offering well preserved nature, good for sleeping in some homestays or pensions, you can make various interesting tracks, see waterfalls.
9. Orava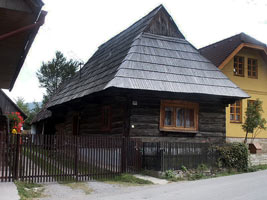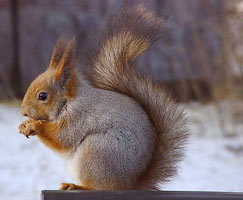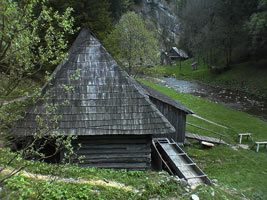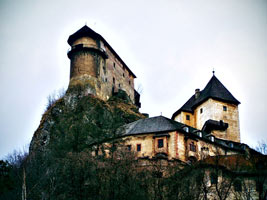 Source: wikimedia.org, pic1:Dezidor; pic2: Matti Parkkonen, pic3: Robzl,pic3: Iaslandes,
Orava offers amazing traditional architecture as well as natural beauty.
This region is at middle north of Slovakia, and is a great place to spend several days.
How to get there: by train to Liptovsky Mikulas, and then by bus to various villages around for example vollage called "Terchova"
10. Banska Stiavnica + Kremnica – mining towns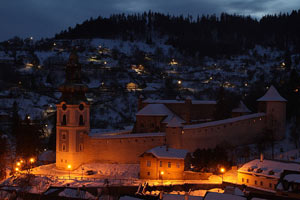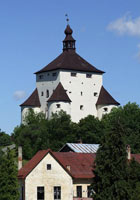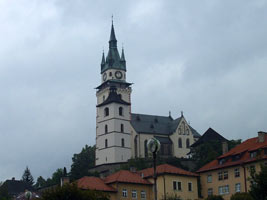 Source: wikimedia.org, pic1:Peter Porubcan, pic2: Martin Szala, pic3: Dusan Turan,
Those 2 towns are about 40 km from each other with similar atmosphere. Both of them are very historical with view unlike anything in Slovakia.
Kremnica is famous for producing coins and medals, as well as plaques, tokens. Because of gold mining in the past it was one of the richest towns of that time. Its history starts in 13th century.
Banska Stiavnica is famous for mining. First Mining academy in Europe was established in Banska Stiavnica.
It's history reaches back to 1156 named as terra banensium. It is historically one of the most interesting places in Slovakia and is on UNESCO list.
The best 10 activities in Slovakia | The best sightseeing in Slovakia | The best places to see in Slovakia | The best places in Slovakia | Best of Slovakia | Slovakia highlights | Where to go in Slovakia